There's a long list of reasons why arts and sports fill a unique need in child development. Arts & crafts (such as drawing or knitting) and sports & games help significantly with all areas of a child's development. Yes that's right – arts and sports make our children smarter, stronger and more successful.
Arts and crafts help develop motor skills at a young age. Drawing pictures, or making a collage with friends can promote the development of social skills such as decision making, teamwork, communication, and problem solving. MaryAnn Kohl, an arts educator and author of numerous books about children's art education, suggests that visual learning, inventiveness, and cultural awareness are all developed through an interaction with the arts.
Kohl states, "The kind of people society needs to make it move forward are thinking, inventive people who seek new ways and improvements, not people who can only follow directions. Art is a way to encourage the process and the experience of thinking and making things better!"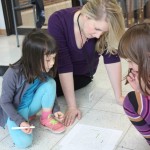 Sports and games also have a huge impact on a child's social development.  Namely, putting children on a team, and getting them to work together helps develop key social skills. Children aged 7-10 are just beginning to develop the ability to see the world from the perspective of others. At this age, sports are less about competition and instead focus more on fun, experimentation, and learning through trial and error.
An active participation in sports has also been seen to help develop a child's moral skills. Through team activities, children learn such essential values as honesty, teamwork, fair play, respect for themselves and others, and adherence to rules. Finally, there is a direct correlation between an active life style and scholarly success. Sports-based educational programs in schools have been shown to increase attendance, and improve learning performance in children.
According to a study done by the Canada councils for the arts, the majority of arts and sports activities that children do is in schools. This study, focusing on 2008 students, and published in 2011, shows that 80% of Canadian children "almost never" do artistic activities outside of school, and 64% "almost never" participate in any physical activity outside of school. And so, the responsibility of providing sport and artistic activities (almost always) falls to the schools. This makes sense: what is the point of school if not to develop our children socially, emotionally and intellectually; providing different activities and educational opportunities?
Of course many parents, educators and children won't need a list of benefits. We know that arts and sports are good for child development!
This is where Explore It! steps in. We work with the schools we are in, adjusting to their needs and learning their ways, to have the largest possible positive impact on the community. We don't replace or compete with the programs already offered in these schools, but rather join them as collaborators in good child education and development. We aim to be part of the community – your community – and want to give children the opportunity to Explore It! all.
The Explore It! mandate is this: We aim to encourage young minds to discover their passions and explore their talents. We do this in many ways, but really, as our students and instructors will attest to, at the end of the day, it's about having fun because when we are having fun, we learn, and experience, and grow without even trying.