Cooking with children requires a special touch. You need eyes in the back of your head to manage the situation; and you need a relaxed attitude – because I guarantee that fingers WILL be licked and flour WILL fall on the floor! Being well rested and indulging in a cup of coffee before the experience doesn't hurt either – you'll need patience and energy to be in the kitchen with a child!
A few simple rules will help when approaching the kitchen with your little one:
Make a plan. If you have all your ingredients ready to me mixed, whipped and smashed, and all your gadgets close at hand, you'll be able to find the kid in yourself and have fun with the experience.
Make it age appropriate. Don't plan on making fondant flowers with your 4-year-old. Choose recipes that will appeal to their taste buds as well as their skill level – to limit the level of frustration for both of you.
Limit the options. If you open up your pantry to your child, pretty soon you'll have 8 half-done projects in a very messy kitchen. Say to them "We're going to make cookies today – do you want to add white chocolate chips or milk chocolate chips?" Giving them the option will make them feel in charge and show them that cooking can be spontaneous – but you will remain the chef in charge of your own kitchen!
Limit the steps. A good rule of thumb is to not have more steps than their age. Your 4 year old can only handle a recipe with 4 steps, while your 9 year old can handle one with 9 steps. This rule will help greatly when deciding how to set up (or plan) for the fun and in choosing the right recipe.
Just remember – there's no harm in loving chocolate so much that you can't resist licking it off your fingers, and sweeping the floor only takes a minute – so get in the kitchen and have some fun!
Here are a few of our go-to recipes for working with young children.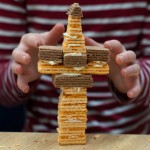 Eifel Tower Cookies:
These treats are – in one word – Brilliant. They hit all the marks. Young children will get some basic cooking (and math too!) experience making their own icing and then can be creative little engineers building the sky-scraper of their dreams. The best part – they're really yummy!
Ingredients:
Sugar wafer cookies
White frosting
(Optional) Ice cream
(Optional) Chocolate sauce
Directions:
Build an Eiffel tower on your plate using sugar wafers as your building blocks and frosting as your cement. You will need to cut some cookies into smaller shape so your tower stands.
Make a French (or Canadian!) flag by drawing one on paper using markers or crayons, then cut it out and tape or glue it to a half toothpick depending on how tall you want it to stand. Add flag to the top of the tower.
Serve with a scoop of ice cream and chocolate sauce if desired.
Chocolate Dipped Candy Apples:
While coating fruit in candy may not be an every-day solution to the problem of getting children to enjoy healthy foods, it certainly doesn't hurt once in a while. These Caramel Apples were a tradition in my house at Halloween but are equally good any time of year – especially in the early spring when we're all a bit tired of eating this easy-to-find-in-a-Canadian-winter fruit!
Ingredients:
10 small Granny Smith apples
1/2 cup candy-coated milk chocolate candies (or other toppings)
2 pounds semisweet chocolate, chopped
Directions:
Insert lollipop sticks into the cores of the apples at the stem. Place the candies on separate plates. Set aside.
Place the chocolate into a metal or glass bowl and set over a pan of barely simmering water. Stir frequently until melted. Remove from the heat.
Dip apples into the melted chocolate, turning to coat completely.
Dip or roll in candy, then place on a sheet of waxed paper. Repeat with remaining apples.
Allow apples to set at room temperature until the chocolate is firm, about 20 minutes, before serving.
Strawberry Shortcake:
Even out of season, strawberries, coaxed to sweetness with a touch of sugar are a delicious treat. Especially when served over soft pound cake and topped with vanilla whipped cream.
Strawberry Shortcake is a perfect dessert to make with little ones as there are plenty of "jobs" to do, but no need for sharp knives or hot ovens. In my many years of cooking, with both children and adults, I've yet to come across someone who can resist the simple pleasure of a Strawberry Shortcake.
Ingredients:
1 lb                 strawberries
¼ cup             quick dissolve fruit sugar
1 loaf              pound cake – or make your own plain white or yellow cake or cupcakes!
1 cup              whipping cream
¼ cup             powdered sugar
1 tsp               vanilla extract
Directions:
Cut strawberries into quarters or small pieces, put in a large bowl.
Add sugar to strawberries and mix to coat fruit and dissolve the sugar. Set bowl of strawberries aside until ready to serve.
Slice pound cake into 1 – 2" slices – cut into fun and fancy shapes with cookie cutters if you like; set aside.
In a large bowl, whip the whipping cream with a whisk until thick and fluffy (note: do not over-whip the whipping cream – it will turn to butter!!). Add the vanilla extract and powdered sugar to the whipped cream and mix to combine.
Assemble your strawberry shortcake by layering strawberries on top of pound cake and then plenty of whipped cream on top!
And… while it's not exactly "baking" – it's always a treat:
From Scratch Hot Cocoa
Ingredients:
2 tablespoons unsweetened cocoa powder
1 to 2 tablespoons sugar (depending on how sweet you like it)
1 cup milk or any combination of milk, half-and-half, or cream
1/4 teaspoon vanilla extract
Directions:
Whisk together the cocoa, sugar, and about 2 tablespoons milk in a small saucepan over medium-low heat until cocoa and sugar are dissolved.
Whisk in the rest of the milk and heat it over medium heat, whisking occasionally, until it is hot. Stir in the vanilla and serve.
If you like it frothy, blend it in the blender.