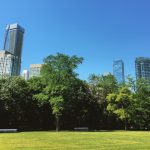 We cannot believe that we are in the final stretches of Summer 2016. This summer has been a blast – with really HOT and sticky days, super inquisitive Wonder Campers, uber-talented Instructors and of course, fun and exciting programming at Wonder Camp. We pushed our boundaries this summer as individuals, and as a company – striving to bring the best experience possible to our campers – and I humbly think we've succeeded. A big shout-out to our magical team – keep up the great work everyone – we've got two Wonder-ful weeks left and I can't wait to see what's in store!
Week 7 at Wonder Camp brought inspiration in the form of  a Star Wars theme (what magic!). With so much to choose from and so many fun options for activities, we jumped in with both feet and got started right away. We Explored the Jedi Code, engaged in Jedi training games, learned about the Wonders of astronomy and created constellation crafts, made our own BB8 stuffies, crafted Yoda ears and even competed in light sabre fencing. Can it be Star Wars week every week? May the force be with us!
In our Science and Technology workshops, we explored the fundamentals of circuits and robotics, creating light up droid bots with the Little Wonders and toothbrush vibe bots with our Big Wonders. Wonder-ful!
Our campers all gathered together in our Performing Arts workshop this week, learning the Cantina song from the last Star Wars movie and performing it at lunch for all Branksome Hall campers. We're so proud!
In our Visual Arts workshop, both the Little and Big Wonders Explored the iconic artist Piet Mondrian, the Littles through their own art pieces and the Bigs with their own art which they were able to turn into unique board games, turning art and form into fun and function!
In our Culinary Arts workshop things got really yummy in Star Wars week, with the Littles making their own vanilla ice cream while the Bigs made home made waffles from scratch — with a Darth Vader shaped waffle maker of course! Best ice-cream sandwiches ever… these might even make us turn to the Dark Side!
Week 8 at Wonder Camp began even before we did… With the Olympics as our theme and backdrop, we were all in the spirit and ready to roll after the beautiful opening ceremonies (of the "real" Olympics that is!) aired Friday night from Brazil. We loved the opportunity to engage in some fun and sporty activities while also taking inspiration from the global themes the Olympics inevitably bring. There was no shortage of activities this week including our own opening ceremonies, activities Exploring flags of the world, creating Olympic ring art, summer sports including soccer and track and field, crafting our own salt dough medals and toucan stuffies, making marble mazes, learning about chess and other strategy games, playing balloon ping pong and – perhaps saving the best for last, our Friday afternoon Minute To Win It Olympic Games. What fun!
Our Performing Arts Workshop found our Big Wonders Exploring dramatic arts and Improv with Maggie and her skills brought back from our time spent at the Broadway Teachers Workshop in New York City earlier this summer. Our Little Wonders learned the inspiring song "Wavin' Flag" complete with choreography and flag props, which they performed beautifully on Friday morning.
In our Visual Arts Workshop, all campers Explored textile arts and stamp making, creating their own design and stamping a bandana for them to wear or display at home. Beautiful!
In our Science and Technology Workshop, our Little Wonders Explored sound waves as well as the mechanics of toys and our Big Wonders experimented with solutions, learning about density and solubility… these lessons are all part of our new Explore It! program this fall : Spangler Science, which is based on the Steve Spangler learning method focusing on his motto: Play with a Purpose.
In our Culinary Arts Workshop we got baking – creating these yummy Brazilian Cheese Puffs. Ours sadly were a little over cooked by accident (extra crispy?!), but the recipe below can be used to make delicious cheesy bread-pillows (yes please!) at home. Give it a try!
Only two weeks left at Wonder Camp and then a short break before the Fall term begins and the magic of back to school, changing colours on the trees and the careful consideration of "what should I be for Halloween" begins. Let's all stop for a moment and soak up the summer while we can!