All The Wonders of Wonder Camp
Posted by Sarah White on Jul 21, 2018
As the days start to get almost imperceptibly shorter we have come to the realization that camp is already half over for the summer!
The first half of the summer has rushed past in a blur of paint, sunshine, pool time and stories. Our campers have foraged through the woodlot to find woodpeckers, chipmunks and wild flowers. They've danced and sung their hearts out to classics such as Baby Beluga and Up and they've gotten their hands dirty creating all kinds of art.
Every week has brought a new theme, and with it a new set of challenges and activities for our campers to enjoy. Our very first week of camp was Passport To Fun. Our instructors expanded on the theme hosting a very British tea party (complete with terrible accents) where the campers got to cook and enjoy some Shortcake with Berries and Cream (click on the image to the right for the recipe!) and sample some magic colour changing tea! With an emphasis on learning about cultures from around the world the campers listened to music from distinct regions and painted according to how the music made them feel.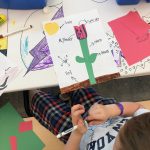 Our second week brought all the excitement of a Marvel movie with Superhero Week! Our Big Wonders got to create their very own superheroes, make their own lip balm and learn the art of clowning from Captain Bianca. Our Little Wonders delved into the parts of a plant in our science workshop and cooked up some fresh guacamole in our culinary workshop. All of our campers got the opportunity to create their very own superhero masks and wrist cuffs. Not to mention sewing their very own animal headbands!
Feeling patriotic during Canada Week, our campers made some delicious Hawaiian pizza (it's Canadian you know!). Our Little Wonders learned all about Canadian animals and designed their very own clay statues! The Big Wonders explored the engineering of air resistance by designing their very own parachutes while the Little Wonders discovered all the colours of the rainbow in a colour mixing experiment. Captain Bianca ran a camp wide dance boot camp that had all the kids laughing and grooving. The week ended with one of Gina's famous scavenger hunts. The kids ran all across the campus discovering the clues that would lead them to the final treasure!
Earth Week had our Little's going on several nature hikes through the woodlot searching for wildflowers and listening for bird song. Our biggest and smallest wonders came together for a performing arts workshop with a focus on emotions. Our young scientists made erupting volcanoes and built their own boats to explore buoyancy and water density. A good time was had by all at our popcorn party where the campers got to grate, chop and dice their own toppings. All of our campers sat together to create their very own fruit stuffed mini.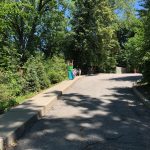 We've now just passed the halfway mark with Halloween Week. Our groups gave themselves spooky names like The Bone Chillers, The Trick or Treaters and the Hallowmeds. Art projects abounded in Halloween week from experimenting with automatic drawing, to creating spider puppets, to sculpting clay in the style of Hepworth. Our big wonders spent the week working on their very own book of spooky stories completely written and illustrated by them! If you're looking to get your hands on a copy I'm sorry to tell you that the limited run has sold out! (Come back to check them out in an upcoming blog post!) The experiments for Halloween Week were out of this world, with our wonders creating film canister rockets, discovering the meaning of hydrophobic and hydrophilic through oil and feathers and learning all about chemical reactions with elephant toothpaste. Perhaps the biggest hit of the week was the monster stuffy that each camper got to design and sew!
With four weeks of camp left in the summer we're all excited to keep exploring with our campers!