Instructor Profile: Aaron Alviano
Posted by Thea Fitz-James on Mar 29, 2014
At Explore It!, we pride ourselves at having not only the best programs (name it, we do it) but also the best instructor for said programs. As we've mentioned, an Explore It! instructor is not your typical teacher— they facilitate, they educate, they recreate. But outside of Explore It! hours, they're professionals in their field—bringing strong educational backgrounds and loads of experience into their sessions. So we've decided to celebrate our instructors by introducing them to the blogosphere. We'll present feature interviews, fun facts, and more.  They'll give you their thoughts on working for Explore It!— the why and wherefore—and we'll tell you what they're up to when they aren't making pancakes, ripping duct tape, or building LEGO with Explore It! students. Up first, our Explore It! veteran, Aaron Alviano.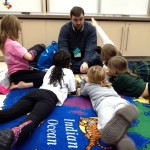 Aaron Alviano is an artist, educator, and all-round great guy. No – really. Not only has he been with Explore It! since the beginning, he's taught almost every program we offer. He basically invented our Magic program, and has developed many of our tried and true curriculums from nothing. Aaron is routinely recognized at Explore It! for being one of the most "solid" instructors. He's the kind of person who never forgets a birthday. Aaron brings the same amount of care and creativity (a LOT) to every class he helms.
Did we mention he's also a great instructor, and a kind, generous person?
Alright, enough gushing. Beyond these platitudes, Aaron is a professional in his field.
Aaron got his bachelor of Studio Arts (with honours) at Guelph University. He's taught Fine Arts, Photography and Digital Arts (amoung others) at Centauri Summer Arts Camp for 12 years and in the fall of 2012, his series Infinit Answers was exhibited in Toronto's Nuit Blanche. Using universally recognizable symbols in combination with mathematical equations, Infinite Answers, through acrylic and canvas, explored concepts of standardization, minimalism, and audience interpretation.
Aaron's next project is a series of composite portraits. Heroes and Villains shows a handful of photographed faces from the front. Aaron then uses computer graphics and digital media to manipulate a super hero mask over half of the face. This composite image—mask and face, the digital and the physical—attempts to revels the super hero in all of us, blurring the lines between the individualism of portraiture, and iconic status of masked heroes. Is there something universal in a face? Is there something individual in a mask?
Years ago, when Aaron was coming home from teaching a class. Wearing a Superman T-shirt, a little girl on the bus pointed to him, and said "Superman". He was thrilled. Those who know Aaron well will know that Superman is one of Aaron's favourite pop culture figures. But they will also know that Aaron and Superman have quite a bit in common. They are both life-savers. They are both dependable. And more importantly, there is something unpresuming about Aaron, something silently (even stoically) fierce about the care and attention he gives to his friends, students, and work. Like Superman, I think that people don't see Aaron coming, but when he's there (faster than a speeding bullet), you wonder how you ever lived without him.
The Explore It! Inc. directors, Liz and Randy consider Aaron to be one of their strongest instructors and biggest assets. Here's what they recently said about him in a Bravo-Blast to the whole company:

His programming is rock solid, the children love him and his fellow instructors all want to work with him. He arrives at every class with the same, positive and easy going attitude and gets great results from every group he works with. Aaron – just for being you (and please don't ever change!) Bravo!
Check out this short interview with the man himself! His thoughts and perspectives on how Explore It! has changed over the years, and why he loves teaching.