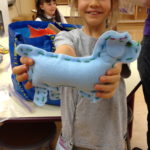 At Explore It!, we love making Stuffies. We have entire programs dedicating week after week to them, we incorporate them into our multidisciplinary programs (Owls in Hogwarts Adventures, Goodall's Gorillas in Women in Science, and Dragons in D&D Club to name a few) and we make at least one stuffie every single week in Summer Camp.
Stuffies aren't "just a craft". Stuffies provide the opportunity to learn to sew and to refine our skills. To be attentive to small details, to be creative and to explore our feelings – on our own and in a group. The power of a crafting circle is harnessed in every sewing (or knitting, or drawing, or sculpting) program we do – you'll often find our Instructors sitting with all their students in a circle and – once the skills have been mastered, quiet, supportive, contemplative discussion is encouraged while we create. Children are asked to help each other and to be patient. Participants are taught to see value in their work and to reflect on others' work with positivity.
Sewing is an important life skill and – more-so, an opportunity. For time together, without the pressures of sustaining a conversation, or winning a game, or finishing a meal, or completing homework. From our home-workspace to yours, in this time when we're all trying to figure out what to do with ourselves and our families to stay occupied and engaged, we hope you enjoy the Cactus Stuffies sewing activity below from our Instructor Michelle.
Post your creations on Instagram and tag us (@exploreitallinc) so we can enjoy with you! Stay safe and stay healthy — we hope to see you all again in programs very, very soon.

Make Your Own Cactus Stuffie!